Protecting a prized possession, you always lock up your Mercedes.  If you've lost your car keys or locked them inside there's no need to panic.  One of our Houston locksmith specialists will be there promptly to quickly get you back on the road and on the way to where you need to be.  No matter if you need Mercedes high security keys or a Mercedes keyless entry remote.  You'll rest easy knowing that the work will be done by a fully licensed, certified, and authorized company. Our Houston area lockout and Mercedes Benz key replacement services are faster, more convenient, and more specialized than a dealership.
Key Replacement
We're an authorized Mercedes Benz key replacement locksmith.  We provide fast mobile emergency service with a fleet already deployed throughout the Houston metro, and expert dispatcher.  Or call us with the VIN for a car key replacement.  We'll verify registration and ownership then cut your new keys.
Fobs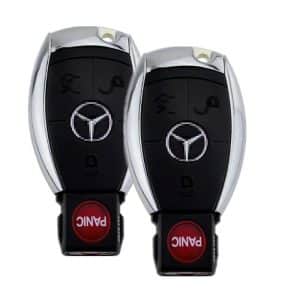 Today's Mercedes locksmith services involve more than accurate key cutting.  That's fine for pre-1995 models — we'll cut a standard key based on the VIN number or reading the ignition cylinder.  But since 1999 all models use a chipped transponder fob and immobilizer features in the onboard computer system.  Starting in 2002 the Mercedes keyless entry remote "Go" was added to many models for added convenience and security.
Without the right wireless codes you simply can't start the engine.  Our Houston car locksmith services experts head out with the latest equipment for programming transponder fob keys with codes direct from Mercedes, and in some instances we can generate codes from the onboard computer or reflash onboard codes.
Unlocks
Our extensively-trained and highly-skilled automotive locksmiths are known in and around Houston for prompt, damage-free unlocks.  Extracting a broken off key and repairing an ignition switch are no problem for them.
Restored Security
Mercedes Benz and Sky Lock take vehicle security seriously.  Along with making a replacement key and programming the fob we'll disable codes in the EIS (electronic ignition switch) system and/or re-flash the ECU (engine control unit) so that old keys and fobs no longer work.  Only 10 unique key codes were established for each specific vehicle.  To exceed that it's necessary to replace parts of the immobilizer circuitry.
Sky Lock and Door
We're the Houston area's truly professional locksmiths authorized for Mercedes car key replacement and duplication.  With all the latest tools and training.  When you call you'll get a genuine ETA.  Then after our arrival you'll receive clear and complete up-front pricing.